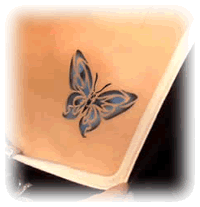 It may be hard to believe but a tattoo design can say many things about a person's personality. Common tattoos found on individuals may signify life-changing events such as graduation from high school, a new child or even a romantic interest. But there are very few instances in the public realm, outside of prison systems, where the tattoo can mean the difference between life and death.
Japanese Tattoo History
Japan's history of tattooing goes back to 10000 B.C.E. to 300 B.C.E. (Before the Common Era). It was used for healing, identifying a soldier should he perish on the battlefield and be stripped of his armor and even to identify rites of passage for certain tribes. Perhaps the most familiar of Japanese body art is associated with the organized crime group the Yakuza. Similar to the Italian Mafia, the Yakuza has long been associated with the less than desirable elements of society. Anything from illegal gambling to racketeering is within its grasp.
Surprisingly though, the tattoo design found most often on Yakuza members is that of beautiful scenes and elaborate details. The method used though is less than beautiful. Yakuza members, as a way to test their resolve and strength, do not get tattooed with a tattoo machine. It is a hand held instrument that is not without pain. The images are not just a back tattoo either. They span the entire body from collar to ankle.
Russian Tattoo History
In Russia the tattoo design found on many of the country's prison inmates is a message to other people of their deeds and sins. It is a way to identify how dangerous a person is. One man might be wearing a tattoo design signifying that he is a head figure while another might be forcefully tattooed as an informant.
The tattoo design in Russia's history was not just limited to the criminal element. In an oppressive government sometimes the only way to rebel was to a tattoo design belittling one of the political tyrants. This was a way to send a message to other people when freedom of speech and press was not allowed.
The language of the tattoo used to be a secret code known only to those in the "know" but with research the meanings have come to light. The social hierarchy of the criminal world is understood. If a criminal tattoo's an untruth or exaggeration the punishment inflicted by others is harsh. The tattoo is either cut off or sandpapered off.
Summary
Tattoos have been and will continue to be a means of expression. From the dragon tattoo to the star tattoo, it is a way for people to communicate with the outside world without saying a word. The tattoo design that is chosen is entirely, well at least most of the time, up to the person who wants to mark their body. It is their way of letting the world knows what they stand for, love or hate.
Best of all, when you are informed in the way that tattoo design works for you, you can make better decisions on the best course of action to handle your own situation with a tattoo artist that you are not familiar with.
In the end, the final choice for dealing with a tattoo artist will be up to you. Use the tips in this article to find the best tattoo design for handling your new tattoo and find yourself a little more satisfied with knowledge to help make the right choice for you permanent body make-up.