Introduction of New Technology Mired in Economics
Dual format high def DVD players hold the promise of making the HDTV DVD format war irrelevant from the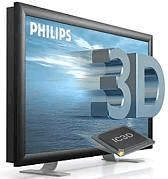 perspective of consumers, but the technology is being stifled by high prices.
The High Def DVD format war has been keeping consumers from fully embracing either the Blu-ray disc format or the HD-DVD format- both of which are capable of delivering full length movies and all of their bonus features in HDTV format. The hesitation comes from a combination of the facts that the two formats can't be played by each other's players and the consensus that one of the formats will become obsolete at some point in the near future. Because of this situation, consumers are reluctant to invest in either of the two formats.
Short of one side in the format war folding or being sadly defeated, dual format high def DVD players are one solution to the stand off. At least from the perspective of consumers. These devices can play discs of either format and so they present consumers with a way to hedge their bets about which format will end up in the dust bin. Also, if enough consumers adopt this technology the market won't have to choose between HD-DVD and Blu-ray, so both formats will be able to continue to be in existence. If this happens, consumers will get the extra bonus of lower prices because of the competition between the two formats.
This scenario has largely been derailed by the fact that the two high def DVD players produced so far are too expensive to make any sense. A model made by LG Electronics was the first to come to the market, and it costs over one thousand dollars. The price tag for this device would have made it a viable option for consumers because it cost less than an HD-DVD player and a separate Blu-ray player would have cost, except that both Blu-ray and HD-DVD players dropped in price at about the same time to the point where two separate players now cost significantly less than LG's dual format high def DVD player.
Relief was expected to come from the release of Samsung's version of the same device (only with the additional ability to support HD-DVD's interactive features) which was slated to cost about six hundred dollars, which is less than separate Blu-ray and HD-DVD players would cost if purchased together. But then Samsung announce that its dual format High Definition DVD player would cost over a thousand dollars, just like LG's model. Granted that the Samsung model is more versatile with its capacity to provide access to HD-DVD's interactive bonus features, but why would anyone buy a device that costs more than the two separate devices that its supposed to provide an alternative to? More to the point, why bother developing a device like this and then price it so that no one will buy it?
The only answer to either of these two questions is that consumers are irrational and will buy the device anyway. Perhaps these companies are counting on the desire of consumers to avoid having an obsolete device lying around. This is playing into the desire of consumers to avoid choosing the losing format, even if they waste money in the process. While some of these devices will surely be sold for that reason and others like it, whether or not that will provide enough impetus to lower prices to the point where more rational consumers will buy it remains to be seen.
Author Bio: Nicole Evans writes articles for consumers who want to find the best Satellite TV Technology offers currently available. She has written for many major publications about the latest Direct TV Offers and promotions and how buyers can find the best discounts.