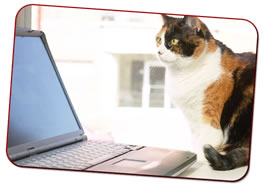 Steps to Take Before Selecting a Cat
If you are about to select your very first cat or kitten, there are a number of things that you will need to consider. Not only is the process of selecting a cat important, but you will also need to ready yourself and prepare. You will need to invest in certain cat products and supplies, and you will also need to be fully prepared to address your cat\'s health as well. Let\'s take time to consider the proper methods for selecting a cat before you bring a new kitten or adult feline into your home.
Caring for a Brand New Cat
There is more to owning a cat than merely feeding the animal and

providing the animal with water every day. To care for your brand new feline you are going to need to invest in the right type of cat food so that the animal maintains a healthy diet. If the cat has a previous owner, you will want to take the time to discuss with the previous owner the cat\'s diet. Abrupt changes to a cat\'s diet are not conducive to the cat\'s health. If you are bringing home a kitten, you may want to speak with a vet to find out the best cat food to feed your new pet cat. Kittens require special diets so that they can get the right amount of nourishment, and can grow and thrive.
You will also need to consider the grooming needs of the cat you select. The type of coat that a particular feline has will determine the grooming products you require. Short-haired felines are the easiest to care for in terms of grooming, but longer-haired felines will require regular brushing to keep their coats looking beautiful and healthy. It will therefore be necessary to invest in an inexpensive grooming brush to care for your new cat. Along with a grooming brush you will also require a cat box, cat litter, cat bowls, a collar, and an array of other cat products to keep your cat healthy and satisfied.
Considering Cat Behavior
While it is true that cats are amazingly independent animals, it is also true that cats can be a bit mischievous, particularly if the cat is left alone a lot. If you are selecting a cat for the first time, you will want to give due consideration to just how much time you will be able to spend with the cat on a day-to-day basis. Kittens require extensive attention and will need to be trained from scratch. If you spend a lot of time away from the home, getting a kitten as your first cat may not be the best idea. It is better to select an adult feline which has already been trained and which requires less attention than a kitten might require if you do not intend to be with the cat for extensive periods of time or if you work outside of the home.