Keeping Your Cat Safe and Amused
Remove Poisonous Plants
You may have a number of plants in your house which are actually poisonous to cats without even knowing that you have them. There are a number of plants that can harm your new pet cat and you will want to either put the plants in a place where your cat cannot get to them or remove the plants from your home entirely. Some plants may make your cat considerably ill while others may even cause the death of your new feline if the plant is ingested. Such plants include household plants like Aloe Vera, Lilies, Baby\'s Breath, and certain cacti. If you notice unusual cat behaviors after your cat has consumed a plant in your home, you will want to take the cat to a vet immediately. Finally, when purchasing plants in the future, be sure to research whether or not the plants are poisonous to your cat or not; when in doubt, it is best not to bring the plant into the home or put it in a place where the cat can easily access it.
Common Poisonous Plants
Wisteria
Narcissus
Rhododendron
Hydrangea
Lily-of-the-valley
Ficus
Oleander
Chrysanthemum
Anthurium
Hide Electrical Wires from Your Kitty Cat
You\'d be amazed just how much electrical wires look like ropes or pieces of thick string to your new feline. Cats love such items and your cat can be harmed if it begins playing with electrical wires around your home after mistaking them for play things. Be sure to hide electrical wires from your cat by elevating them to unreachable levels or by covering them so that they are not so easily accessible.
Keeping Your Kitty Cat Entertained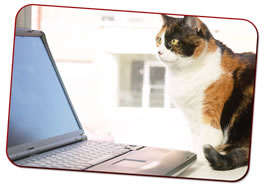 Whether you are home or not, your new cat will need to be entertained. Cats are clever and can find a number of your precious household items fascinating; shortly after you bring your new pet cat home you will find that your furniture and your curtains become the cat\'s source of entertainment! Adult cats and kittens also find electrical wires attractive and will play with them when a cat owner is not looking or when no one is around to stop them. You will therefore want to invest in one or more cat toys so that your new kitten or adult feline has something to play with and enjoy. It is far better for your new cat to have something that is appropriate to claw and to play with than it is to leave a cat with nothing to do. It is also important for cat health purposes to keep your new feline entertained, happy, and safe.